ETHIOPIAN PHOTOGRAPHY:
AN OUTLINE
Guennadi Maslov

Addis Ababa nights are cold and full of sounds. Car honking is ceaseless and considered an obligatory part of city driving. Plaintive traditional music is brought by chilly air from every direction. There is no escape from the yelling of bus driver  assistants as they proclaim their destinations. But just a couple of kilometers from the city center, a short distance from the blatant Churchill Avenue, nature takes decisively over with the sometimes muffled sounds of dogs, hyenas and cicadas. An occasional lone gun shot, or even a short burst of gunfire, do not surprise anyone. Welcome to the Month of Tut, 1979 (September 1986 in the rest of the world) – the beginning of my two year assignment in the People's Democratic Republic of Ethiopia.
* "Ethiopia: the early travel photographs of Captain Speedy." The Telegraph. November 28, 2012

Arnold Henry Savage Landor (1865 – 1924) was an English painter, photographer, explorer, writer, and anthropologist. His dry, witty writing style and well-composed travel photographs from Ethiopia brought him International acclaim in 1906 with the publication of "The Widest Africa".
Landor was definitely familiar with the mainstream Pictorialism of his day. Technically well-equipped, he builds his compositions with a photojournalistic touch, which would become the norm much later, in the 1930s with the advance of the 35mm cameras.
The war between Abyssinia and fascist Italy in 1935-1936 is relatively well documented, with a number of images going beyond the news reporting and becoming a part of the contemporary fine art realm. The famous photograph by Alfred Eisenstaedt (1898 – 1995) depicting the feet of an Ethiopian soldier became symbol of the weakness and defiance of the Ethiopian army.*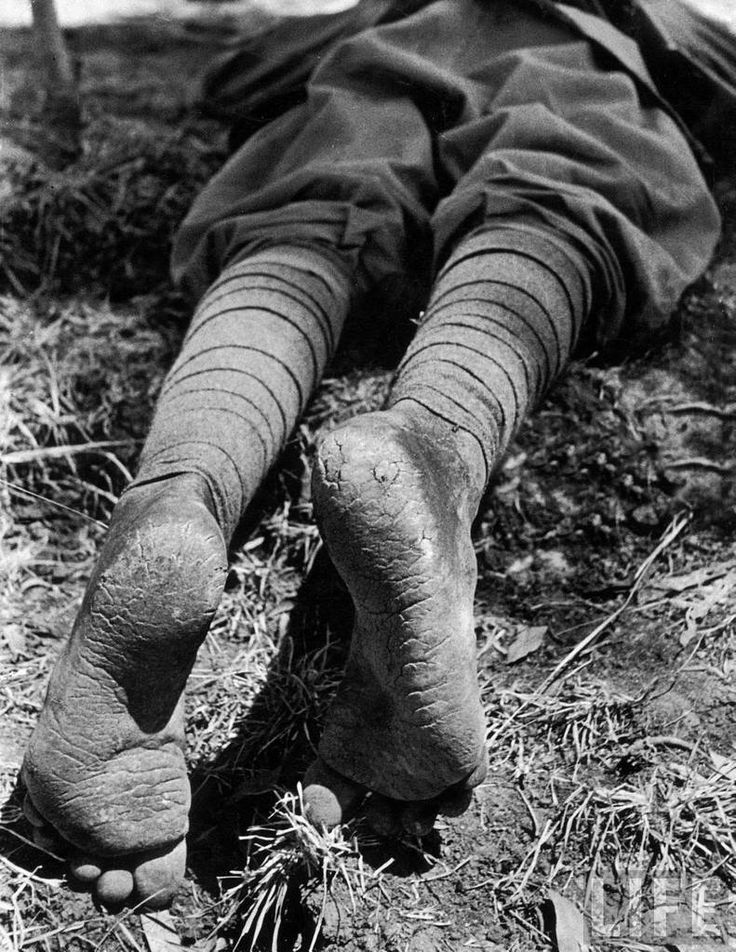 *Eisenstaedt on Eisenstaedt. Abbeville Press. New York. 1985
Being a photographer in Ethiopia has never been easy, though in general the profession brings more public respect than in the West. I learned it first hand while walking the streets of Ethiopian cities and villages. In the 1980s most people, who wanted to be photographed, did not expect to ever see the resulting images. It was the mere act of being photographed that many found so attractive. 
Ethiopia is a beautiful and thoroughly exotic country. At times it can be a barrier to producing photographic work, significance of which goes beyond its pictorial value. Ethiopia is also a desperately poor country, where for many everyday life does not encourage artistic endeavor. Add to that a series of wars, oppressive regimes and regular famines, and you will not be surprised that the Ethiopia-born photographers started to produce important photographic projects only in the 1990s. At about the same time a number of well-known Western photographers (including Sebastiao Salgado and Steve McCurry) created strong bodies of work in the country.
Here I present the art of four contemporary Ethiopian photographers. When selecting the photographers for this short review, I was directed by two main criteria: the artists should be active today, and should create original Ethiopia-based, internationally-recognized art.
Aida Muluneh was born in Ethiopia in 1974 and for many years lived and worked abroad. Her international exposure and a degree from Howard University in Washington, D.C. enabled her to become an active artist and art advocate in her own country. She is the founder of the DESTA for Africa organization, the goal of which is to develop and educate African societies through the arts. DESTA is based in Addis Ababa, where it provides photographic education to those who are willing to create a balanced photographic story of their country.
The name of Aida Muluneh is also closely associated with the bi-annual Addis Foto Fest (AFF). Established in 2010, the biannual is a photography festival directed by Aida Muluneh and produced by DESTA for the entire continent of Africa. The weeklong international festival is held in Addis Ababa and features exhibitions, portfolio reviews, conferences, projections and film screenings. Through the participation of the continental and international photography community, the AFF's main objective is to support the development, dissemination and promotion of visual culture.
Michael Tsegaye grew up in Addis Ababa where he graduated from the University of Addis Ababa School of Fine Arts and Design. Trained mostly as a painter, he subsequently found his passion in photography.
Tsegaye has worked for a number of international publications such as Der Spiegel, Jeune Afrique, and enorm; as well as for press agencies and international NGOs in a variety of countries. Besides his professional work, Michael is also a well-known artist who focuses on social documentary and art photography. He has exhibited in galleries in New York, Paris, Berlin, Madrid, Morocco, Canada, Amsterdam, Mali, Miami, and São Paulo. His work can be found in a number of international magazines and catalogues including Snap Judgments: New Directions in African Photography, edited by Okwui Enwezor, and published by the International Centre for Photography in New York City in 2007.
Much of Tsegaye's work presents a glimpse of dayly life in contemporary Ethiopia, although an extended catalogue of his images come from his travels abroad.
Girma Berta from Addis Abeba is the founder of an ongoing Instagram project that has recently attracted a lot of international attention. "Addis Ababa is a mosaic," says the artist.
Like a mosaic, the city is a distinct patchwork of rough moving parts that taken together create beautiful art. The artist's interview to OkayAfrica – a popular arts and music online portal – follows.
"Most of the images that were created in the past tend to show a preconceived notion of the country. They're either touristic or they're about poverty. It's a one-sided imagery."

#StreetsOfAddis

began as a hashtag

on Berta's

personal Instagram

. It later became the theme of an exhibition, and most recently, the foundation for an Ethiopian street photography community. "The Addis Ababa photo scene is growing. The community is steadily increasing as more galleries, events and workshops geared towards photography and photographers pop up. People are realizing that beauty isn't always about setting up a scene or taking a photo of oneself."
Throughout all of his work, the Ethiopia-born, New York-based Awol Erizku strives to mollify what he perceives as a marked absence of people of color throughout the canon of art history, integrating contemporary fabrics, styles, and symbols with a provocatively allusive sensibility and aesthetic. His exhibition debut in New York City was in the critically acclaimed exhibition, Art•, which placed his work alongside Duane Michals, Roe Ethridge, Richard Prince, and Roy Lichtenstein at The FLAG Art Foundation in 2011. (Hasted Kraeutler Gallery, New York.)
The works of Erizku are an invitation to rethink the cultural stereotypes of what is traditionally called the History of World Art. The viewer will be the only judge of whether the experiment works. By now the artist has received both highly positive and very critical responses to his project.
The work of these four photographers illustrates the first steps Ethiopian photography has taken toward international recognition. For me there is little doubt that the country, with its extraordinarily rich cultural traditions, will succeed in this medium in the nearest future. At this point the capital city of Addis Ababa has few artistic outlets, let alone galleries specializing in photography. However, Modern Art Museum and Gebre Kristos Desta Center inside the Addis Ababa University are the institutions for which Ethiopian artists have high hopes.
Like many lands that entered the photographic age relatively recently, it is important for the Ethiopian photographers not to repeat the dead ends and detours of the less successful styles and artistic movements of the past, and focus instead on their own and unique interpretation of the world.